Grilled Chicken Veggie Bowls

These Grilled Chicken Veggie Bowls were soooo good and it was so convenient having them prepared and ready to eat.
Grilled Chicken Veggie Bowls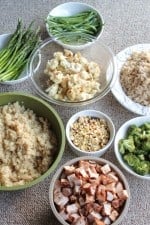 Ingredients (Makes 8 Meals)
16 ounces

 

cooked quinoa

16 ounces

 

cooked brown rice

4 cups/32 ounces

 

roasted asparagus, chopped

4 cups/32 ounces

 

roasted broccoli florets

4 cups/32 ounces

 

roasted assorted sweet peppers

4 cups red onion

32 ounces

 

prepared  grilled Chicken, cubed
Optional (would replace any of the vegetables above)
4 cups

 green beans

4 cups

 

roasted brussel sprouts

4 cup roasted sweet potato

roasted cauliflower
roasted carrots
pea pods
really any roasted veggie is great!
Directions
To prepare your bowls, use  3-cup To Go snack containers (Amazon has meal prep containers that are BPA free and microwave and dishwasher safe!). Place 1/4 cup brown rice and 1/4 cup quinoa into each container. Top with a total of 1 1/2 cups of your cooked vegetables. Mix up the type of vegetables for each bowl so you have a variety each day.  Add 4 ounces or 1/2 cup of your cubed chicken. We added salsa or hot sauce to season to our liking after we reheated the bowl in the microwave.  A low fat dressing would work as well.  Store these in the refrigerator and when you are ready microwave until heated through.
Note: To roast vegetables, place them onto a large baking sheet, drizzle lightly with olive oil, and season with kosher salt and pepper. Cook in oven at 375 degrees until fork tender. Time will vary depending on vegetable.
Makes 8 Meals
(adapted from the Picky Plate)